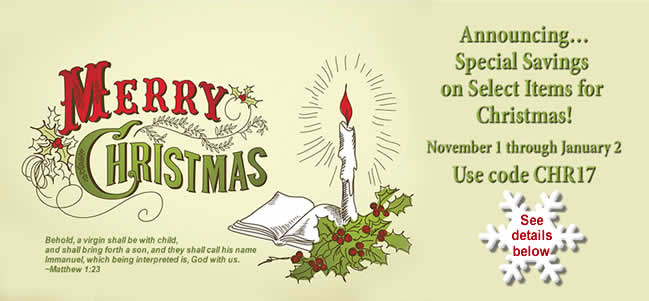 GET 50% OFF!
Select items for Christmas using the code CHR17

Plus Free Shipping
on CLASS enrollments or any orders of $40 or more!


Christian Liberty is featuring several books for adults and children at special discount prices for those who practice the tradition of gift-giving during the Christmas season. We are offering a 50% discount* on each of the titles on the Christmas Sales page from November 1, 2017, through January 2, 2018. Use Christmas discount code CHR17 at the time of checkout to get your discount.
We are also offering free standard shipping on any order of $40 or more,* including the purchase of gift certificates, curriculum kits, and online CLASS enrollments. To be eligible for free shipping, the shipping address must be within the continental United States or an APO or FPO address. (Qualifying orders will be presented with a Free Shipping option at time of checkout. You must select this option in order to receive this offer. Method of shipping will be determined by Christian Liberty.)

Our offices will be closed between December 18 and January 1, but we will reopen on January 2, 2018. Any orders received on December 15 through our Christmas break will be shipped after we reopen on January 2. To guarantee receipt of orders by Christmas within the continental United States, please ensure that such orders are received by Christian Liberty no later than December 14.

*For retail customers only.